Information about our
Spanish language courses in Malaga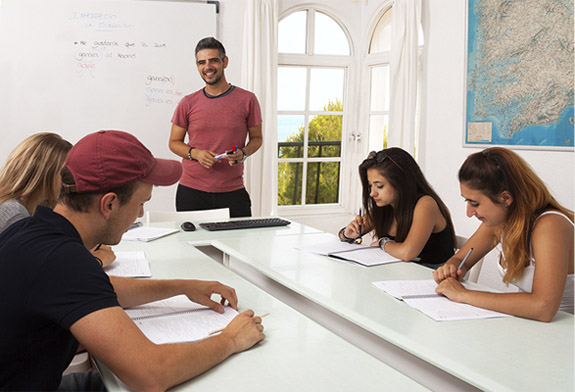 SPANISH LANGUAGE CLASSES WITH THE BEST TEACHERS
The Debla team is made up of enthusiastic and qualified professionals. Moreover, they truly share a passion for their job and are always keen to keep on learning. All our teachers are native Spanish speakers, qualified with university degrees. We are proud to offer the best Spanish language courses in Malaga. In addition to their many years of experience teaching students of all nationalities, the team is dynamic, friendly and incredibly motivated. Moreover, our teachers are constantly participating in continuing education courses and stay updated on current best teaching practices and the latest teaching methods.
OUR OWN TEACHING MATERIAL
The whole Debla team interacts on a regular basis with the students, both inside and outside of the classroom. We offer an individual analysis of each student's particular needs, involving them and including them in their own learning process.
We have been working with our very own teaching material and books for more than 43 years now. Our lesson material is continuously being reviewed and up-dated always taking into account our students´ needs as well as the constant technological advancements.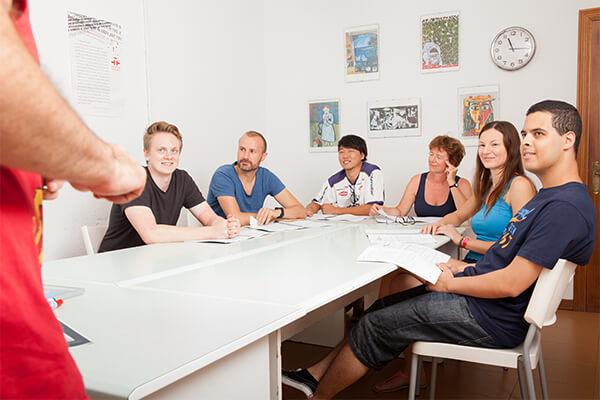 THE SPANISH COURSE INCLUDES:
CERTIFICATE OF ATTENDANCE
Debla´s certificate guarantees that you have successfully completed the selected Spanish language course and reached the proficiency level stated in this certificate following our study plans which meet the standards set by the Instituto Cervantes. In order to receive the certificate, it is necessary to have attended at least 80% of the course lessons. While Debla is accredited by the Instituto Cervantes, if you require an official certificate, we recommend that you obtain the DELE or the SIELE diploma.
UNIVERSITY CREDITS (ECTS) IN DEBLA SPANISH COURSES
You can now get your European university credits (ECTS) by taking a Spanish course in Debla Spanish Courses.
The San Antonio Catholic University (UCAM) and the Association of Spanish Schools for Foreigners of Andalusia (EEA) share the same interests of promoting the development of research, therefore a collaboration has been established between both institutions for the validation and issuance by part of the University of Spanish courses for foreigners taught by the member schools of EEA.
Own degrees taught by Debla Spanish Courses and validated and issued by the UCAM:
| Course* | ECTS Credits | Duration |
| --- | --- | --- |
| Intensive A1 | 3 | 2 weeks |
| Intensive A2 | 6 | 4 weeks |
| Intensive B1 | 6 | 4 weeks |
| Intensive B2 | 9 | 6 weeks |
| Intensive C1 | 9 | 6 weeks |
| Intensive C2 | 9 | 6 weeks |
*Both online courses and in the classroom.
For more information: [email protected]..